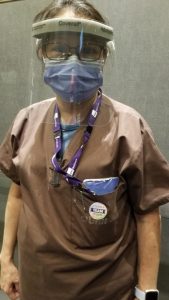 On Wednesday, June 17, 2020, SEIU Healthcare, CUPE, and Unifor held a special event to support expanding pandemic pay to all healthcare workers. Under the banner of 'it takes a team to care' we are continuing to call on the government to not exclude essential healthcare workers across hospitals in Ontario.
SEIU Healthcare sent out Multi-Union Stickers for members to wear to show their support for Pandemic Pay equality. It was a great way for all healthcare workers to band together and demonstrate the unity in their workplaces. Pandemic Pay should not divide workplaces or colleagues, they are all fighting COVID-19 together and should all be treated equally and receive Pandemic Pay. Wearing the sticker continues to remind the government that it really does take a team to provide quality patient care!
If you were able to take a picture wearing your sticker and have not sent it in please send it to communications@seiuhealthcare.ca
SEIU Healthcare proudly represented over 60,000 healthcare workers. We will not stop advocating on your behalf. Thanks to the courage and commitment of all workers in the health system Ontario has been able to get through this crisis. We will never forget everything they have done for us during the pandemic and everything they do for us each and every day.