Ford Forgot Me – Tanya Hogan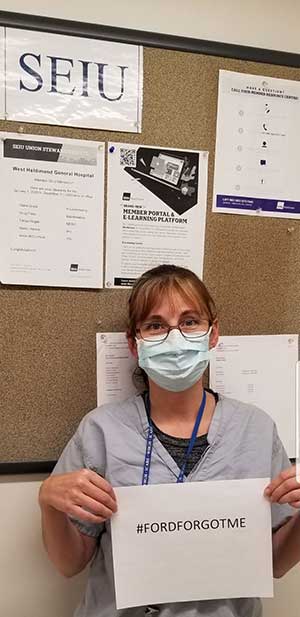 Tanya Hogan is a Medical Device Reprocessing (MDR) Technician at West Haldimand General Hospital in Hagersville. MDR technicians play a critical role in the healthcare system by ensuring medical tools and equipment are clean, sanitized, and disinfected.
Tanya was fascinated by everything in the MDR department. She enjoyed learning about disinfection control, digging deeper into cleaning – why we clean, how we clean, and how to keep people safe and healthy from microorganisms. She attended Mohawk College in Hamilton where is obtained her certificate in Medical Device Reprocessing.
"During my time at Mohawk, I remember thinking about when I had surgery in my past. I never thought about who was cleaning the medical instruments they used. I found everything we learned so interesting and exciting. Today, I am lucky to be surrounded by great colleagues working in a profession I love. Everyone knows everyone in the hospital. Sometimes we perform tasks outside our job description to help one another out. Along with being a tech, I am also a purchaser, so I oversee inventory, contacting suppliers, and reporting PPE to Public Health."
Before COVID-19, Tanya's hospital, like many, did not have enough personal protective equipment (PPE), while some of the items they did have on hand were expired. Like other facilities, the hospital had the basic minimum in stock, which meant they did not have enough supplies to last a month if an outbreak were to occur.
"We Didn't Have Any Gowns Or Masks Before The Pandemic Began. Now, We Are Constantly Looking For New Options Like Reusable Equipment. The Hospital Now Has A Pandemic Plan In Place Where We Have Enough Supplies To Last Three Months. They Have Extended Some Positions To Full-Time As Well. The Hospital Is Finally Doing What We Should Have Been Doing. I Was Working Part-Time At Two Hospitals; I Now Have A Full-Time Position At West Haldimand."
Like many other healthcare professionals, Tanya feared for the health and safety of her family. She was always nervous to go home to her husband and children. The pandemic sped up their renovation plans, and they installed a shower in the basement so Tanya could clean up in an isolated area after work.
One of the most frustrating issues that arose during the pandemic was the lack of education and knowledge by the Ontario government about MDR technicians and the vital role they played in the healthcare system. When Pandemic Pay was announced in Ontario, MDR technicians were not included.
"As A Steward, I Knew A Lot Of Staff Were Unhappy, But When You Work In A Hospital, You Know What To Expect. I Felt Like The Hospital Was Trying To Make An Effort By Doing Things Like Making Parking Free For Staff, But It Didn't Seem Like The Government Was Doing Anything. I Think The Government Should Be Putting Money Into Training To Make The Healthcare System More Prepared And Provide More Equipment And Resources. After We Were Added To The Pandemic Pay List, I Felt Appreciated, But What I Felt The Most Was Guilt Because Others I Worked With Were Not Receiving It. I Felt Even Worst For Those Who Were Unemployed Or Had To Choose One Job And Weren't Making The Same Money. I Hated That Small Businesses Were Getting Shut Down While I Still Had A Job And Was Getting Pandemic Pay. I Felt Blessed But Guilty. I Was One Of Few, And So Many Were Still In Need."
When pandemic pay ended and the $3 an hour temporary wage increase for personal support workers was announced, Tanya felt like PSWs deserved the temporary wage increase. But the pandemic is far from over, and there are still thousands of healthcare workers in Ontario who are putting their well-being at risk to ensure Ontario survives the second wave. As a steward, pandemic pay is one of the topics she gets asked the most, what happens to everyone else in the health system? Why don't they deserve pandemic pay?
"I Am Trying To Do My Job With My Arms Tied Behind My Back. The Pandemic Hasn't Stopped, But We Don't Know What's Going On. I Wish I Had The Answers To All Their Questions. My Message To Doug Ford Is That We Want To See A Permanent Universal Plan For All Healthcare Sectors. All Facilities Need To Know The Same Rules And Regulations. I Would Also Like To See A Concrete Plan For The Second Wave, Is The Government Prepared? What Are They Doing? They Can't Continue To Put All The Weight On Hospitals. They Need To Be Ready And Start Putting Plans Into Place."